Bad To The Bones by Layla Wolfe is another gritty tale in the Bare Bones MC series.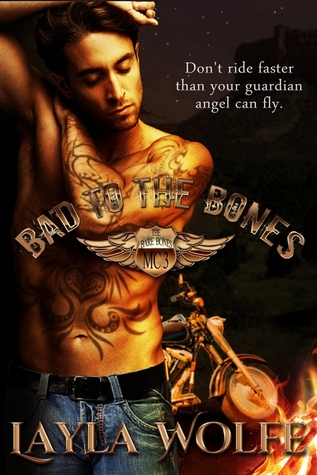 Knoxie Hammett has been The Bare Bones' tattoo artist for years. He's just drifted through life, living it large and performing in their Triple Exposure films, recovering from a divorce he never wanted. Suddenly Knox has a reason to live and to Prospect for the outlaw motorcycle club.
He'll need their help to rescue the lovely Bellamy Jager from the jaws of the warped, cutthroat cult leader who has been holding her hostage for all her adult life. To the neglected, abused teenaged Bellamy, living in the desert canyons off stolen food and time, the sanctity of the ashram looked like a safe zone. But her haven turned to hell and she was drugged and abused, ignorant of any other way of life.
Knoxie will need every one of his Bare Bones brothers and every ounce of bravery he can muster. To save Bellamy and her white slave sisters from the twisted Swami, he'll need to pull off the most daring heist of his life to prove to the club and the world that he's…BAD TO THE BONES
REVIEW
Book three in Wolfe's Bare Bone MC series stays true to the gritty MC world but takes on the issue of cults. In the author's usual candor, readers watch as Knoxie rescues Bellamy from a life of cult slavery. The beauty is in how Bellamy saves him right back. For years, he's wandered without committing to the club but finally, the time has come for him to be a full MC member. With the club members making cameos, it's like coming home to this dysfunctionally wonderful family. It's not just Knoxie who's BAD TO THE BONE!
RATING
4 Chocolate-Dipped Strawberries

This book was given to us by the author. Many thanks.