Mine (Real #2) by Katy Evans is so freaking amazing. This couple is Off. The. Charts.
BLURB
He's mine, and I'm his.
Our love is all-consuming, powerful, imperfect, and real...
In the international bestseller REAL, the unstoppable bad boy of the Underground fighting circuit finally met his match. Hired to keep him in prime condition, Brooke Dumas unleashed a primal desire in Remington "Riptide" Tate as vital as the air he breathes... and now he can't live without her.
Brooke never imagined she would end up with the man who is every woman's dream, but not all dreams end happily ever after, and just when they need each other the most, she is torn away from his side. Now with distance and darkness between them, the only thing left is to fight for the love of the man she calls MINE.
SEE MY REVIEW OF BOOK ONE "Real" HERE.
REVIEW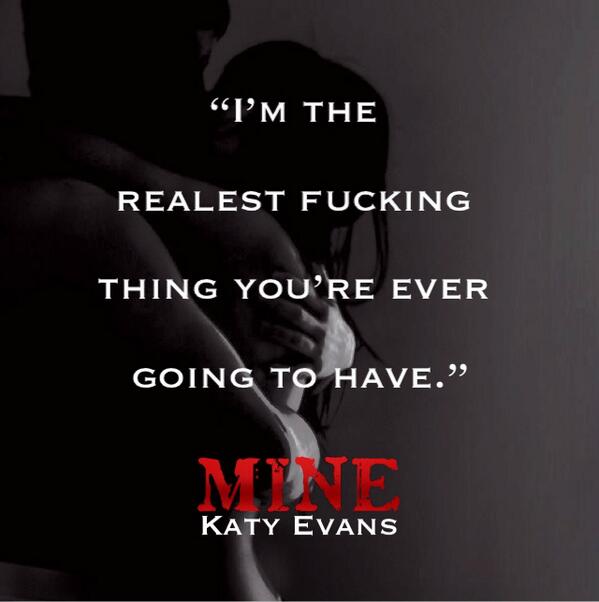 It isn't just that this couple-oh, Remy and Brooke-are off the charts hot. It's the author's voice, the way Evans describes the characters through the eyes of the other, the descriptions of scenes that engage readers' senses of sound, scent, sight, touch. I mean, seriously, I'll read anything Evans writes.
Again, the book deals very honestly with bipolar disorder in a non-clinical, realistic way. It pulls at readers heart strings as such a strong man struggles with mental illness and such a strong woman is determined to stand by his side. I couldn't admire two characters more than those Evans has developed in this series.
The trials Brooke and Remy go through as they come back together after the ending of book one are surprising, some chilling and some exciting. What they overcome is believable but admirable, going beyond in proving their love. Remy is still that alpha male who will do anything to protect his woman - a lion protecting his lioness. He makes me swoon... all that growling and petting and how they relate to one another through music. And really, Brooke is just as protective of him which is precious.
Don't miss out on this series. It's so good - it's a MUST READ OR YOU'RE CRAZY BOOK. I'm sad to say good-bye to them but perhaps we'll be lucky enough to get more if Evans writes about any of the secondary characters!
FAVORITE QUOTE
RATING
5 Freaking Amazing Chocolate-Dipped Strawberries
This book was given to us through Edelweiss. Many thanks.