Author: Terry Maggert
Narrator: Erin Spencer
Length: 7 hours 19 minutes
Series: Halfway Witchy, Book 2
Publisher: Maggert and Spencer
Released: Mar. 6, 2018
Genre: Paranormal Fantasy

The circus came to Halfway, and they brought the weird.

When the body of a young woman washes up in the lake, it unleashes a spiral of mystery that will bring Carlie, Gran, and Wulfric into a storm of magical warfare. Spells will fly. Curses will rain. Amidst it all, Carlie will make waffles, protect her town, and find out if a man from the distant past can join her in happy ever after.

There will be clowns. There will be vampires. There will be waffles.

With love and honor at stake, Carlie has no peer.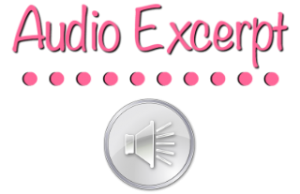 Left-handed. I like dragons, coffee, waffles, running, and giraffes; order unimportant. I write the Halfway Witchy, Messenger, Starcaster and Shattered Skies series, as well as contributing to many anthologies. If I'm not at home, then I'm on the road, and if I'm on the road, I'll be at a book event. I've written thirty-three novels and counting. I don't sleep, but you probably guessed that already. If you want me to visit your town for an event, let me know when and where. See you out there.

Erin loves audiobooks! As an actress, they have allowed her to creatively stretch by playing all kinds of characters, all kinds of ages and all kinds of accents! She voiced roles in the Audie award winning title, Illuminae and was also nominated for a Voice Arts Award in the romance category. She has narrated over 100 titles and as an audiobook director has worked on at least 100 more. She has worked for most of the major publishers and also enjoys working with indie writers who are some of the most talented writers out there! Follow her on Twitter @ErinSpencerLA or find her on Facebook, Erin Spencer Actress.
So you're visiting my little town of Halfway, and Erin Spencer is your guide. Let me explain how Erin's audition process went:
By Author Terry Maggert
I, with audacity of a teenaged boy, emailed her and asked her if she would take my series. She auditioned. I listened to fifteen seconds and thought, "Well. That's that. She is Carlie." Six books later, I think in Erin's voice when I write about Halfway, which is a testament to how fully she embodies the people of my town, and Carlie's world, and even Gus the Judgy cat's occasional mrrrrowt, which I am told Erin nailed in one take.
I love audiobooks, and listen to my own. For me, audiobooks are like meeting your favorite characters all over again—a kind of magical reset that lets me start over with stories I love, set in places I want to visit. Or live. Or drink coffee in a diner that sits in a town where magic is as common as tourists.
Thanks for visiting Halfway, on behalf of Erin, and me, and everyone else who made the series happen. I hope you laugh along with us, and I'll see you later this year with Halfway Hatched.

Carlie is back - she is short, sassy and seriously powerful - or getting there, at least. This series captured my heart from Book one and keeps the heart fires flamed in book two! This is the little series that could - engrossing, great storylines, fast paced action and very multi-dimensional characters. It's all the good stuff of paranormal, and yes, there's romance - and bawdy ghosts and sexy shifters with succubus blood! Told from the POV of Carlie herself, the story mixes murder, mystery and a fair amount of cheeky self reflection from a wise-beyond-her-years 21 year old short order cook/witch hellbent on upholding her end of the covenant her family has to protect the lands and people in their little slice of Adirondack heaven.

Maggert continues to maintain his realm as king of the creation, Halfway, NY. Carlie McEwan ranks in my top ten favorite paranormal heroines. The pace is perfect, not too hurried in world building or review of previous plot lines/ Still peppered with great scenes of action, mystery and things witchy and otherwise weird. The use of magic is believable and enjoyable - allowing the reader to bond with Carlie, as she investigates the murders of several locals after a bizarre circus comes to town bringing clowns and vampires and other dark forces requiring both Gran and her lover, Wulfric, to join her for strength in numbers and magics. Add in some drama with locals, Wulfric's ex, her brother and the hidden graveyard spectral assistants and there should be enough to keep you busy for a day or so. The writing overall is so visual, you can see it in your mind's eye, movie-esque in the action and character descriptions. Must read these in order to have full depth of knowledge and backstory for sure.

Once again, Erin Spencer brings life to the clever characters of this book - with a great range of inflections and pitch perfect pace, she nails the reading on this audio gem. There is something that is at once soothing and yet compelling - I think she captures the essence of Carlie perfectly as a woman comfortable in her own skin, quietly reassured and yet powerful in her own right. She has gone into the "must find more of her works" audio basket.

RATING: FIVE Chocolate-Dipped Strawberries and a winner of our Ultimate Indulgence Award. This book was READ & RATED by Jenn. I received this audiobook as part of my participation in a blog tour with Audiobookworm Promotions. The tour is being sponsored by Terry Maggert. The gifting of this audiobook did not affect my opinion of it..


Plugging you into the audio community since 2016.
Sign up as a tour host here.