Author: Terry Maggert
Narrator: Erin Spencer
Length: 6 hours 56 minutes
Series: Halfway Witchy, Book 3
Publisher: Maggert and Spencer
Released: Apr. 3, 2018
Genre: Paranormal Fantasy

Some prey bites back.

Welcome to Halfway; where the waffles are golden, the moon is silver, and magic is just around every corner.

A century-old curse is broken, releasing Exit Wainwright, an innocent man trapped alone in time. Lost and in danger, he enlists Carlie, Gran, and their magic to find the warlock who sentenced him to a hundred years of darkness.

The hunter becomes the hunted when Carlie's spells awaken a cold-blooded killer intent on adding another pelt to their gruesome collection: hers.

But the killer has never been to Halfway before, where there are three unbreakable rules:

Don't complain about the diner's waffles

Don't break the laws of magic

Never threaten a witch on her home turf

Can Carlie solve an ancient crime, defeat a ruthless killer, and save the love of her life from a vampire's curse without burning the waffles?

Come hunt with Carlie, and answer the call of the wild.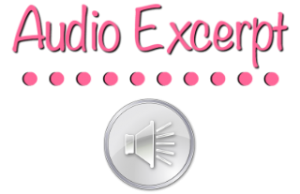 https://www.youtube.com/watch?v=evriVf4aXWM

Left-handed. I like dragons, coffee, waffles, running, and giraffes; order unimportant. I write the Halfway Witchy, Messenger, Starcaster and Shattered Skies series, as well as contributing to many anthologies. If I'm not at home, then I'm on the road, and if I'm on the road, I'll be at a book event. I've written thirty-three novels and counting. I don't sleep, but you probably guessed that already. If you want me to visit your town for an event, let me know when and where. See you out there.

Erin loves audiobooks! As an actress, they have allowed her to creatively stretch by playing all kinds of characters, all kinds of ages and all kinds of accents! She voiced roles in the Audie award winning title, Illuminae and was also nominated for a Voice Arts Award in the romance category. She has narrated over 100 titles and as an audiobook director has worked on at least 100 more. She has worked for most of the major publishers and also enjoys working with indie writers who are some of the most talented writers out there! Follow her on Twitter @ErinSpencerLA or find her on Facebook, Erin Spencer Actress.

Halfway Witchy is one of those rare series I have listened to multiple times and just enjoy it more and more. After the angsty end of Book 2 (no spoiler alerts here) the uniquely compelling story arc in book 3 beckons for return trip after return trip to Halfway, NY. Terry Maggert ensures that fans will be back for more mystery, magic and waffles time and again! Carlie is a character you have to love: a young woman who owns her world, her power and her sexuality - accepting learning and loss, leaning on the sage wisdom of Gran and ever available to help those who need her magical interventions most.
Exit Wainright is a man who returns to the world after nearly a hundred year slumber. Disoriented and obviously under the effects of a massively powerful warlock, he falls under the protective wings of the McEwan witches. Add in the arrival of mysterious warlocks and their creepy henchman hunters who collect supernatural pelts and the continued saga of Wulfric's salvation and you have the makings of another action packed, must listen read.
Three books into the series, and Maggert continues to spin creative and captivating storylines and entrancing secondary characters. I still maintain that Carlie McEwan ranks in my top ten favorite paranormal heroines. The pace of Halfway Hunted is perfect, not too hurried and full of action, mystery and things witchy and otherwise weird. The use of magic is much darker in this book with a closer look at blood magic and the dark machinations of the warlock wreaking havoc on Halfway. The culmination of magical battles is intense and emotional - the romance between Carlie and Wulfric is hotter than ever as their passion mirrors the fight they engage to stay together.
Once again, Erin Spencer brings life to the clever characters of this book - with a great range of inflections and pitch perfect pace, she nails the reading on this audio gem. There is something that is at once soothing and yet compelling - I think she captures the essence of Carlie perfectly as a woman comfortable in her own skin, quietly reassured and yet powerful in her own right. She has gone into the "must find more of her works" audio basket.
RATING: FIVE Chocolate-Dipped Strawberries and a winner of our Ultimate Indulgence Award. This book was reviewed by Jenn.
I received this audiobook as part of my participation in a blog tour with Audiobookworm Promotions. The tour is being sponsored by Terry Maggert. The gifting of this audiobook did not affect my opinion of it.


Plugging you into the audio community since 2016.
Sign up as a tour host here.