Reaper's Stand by Joanna Wylde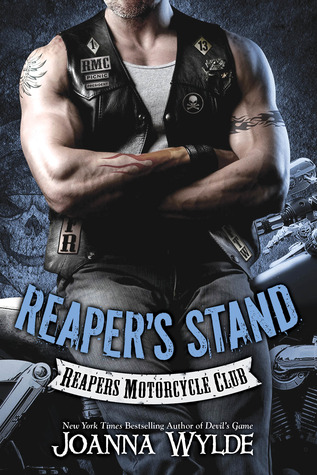 As Reapers Motorcycle Club president, Reese "Picnic" Hayes has given his entire life to the club. After losing his wife, he knew he'd never love another woman. And with two daughters to raise and a club to manage, that was just fine with him. These days, Reese keeps his relationships free and easy—he definitely doesn't want to waste his time on a glorified cleaning lady like London Armstrong.
Too bad he's completely obsessed with her.
Besides running her own business, London's got her junkie cousin's daughter to look after—a more reckless than average eighteen-year-old. Sure she's attracted to the Reapers' president, but she's not stupid. Reese Hayes is a criminal and a thug. But when her young cousin gets caught up with a ruthless drug cartel, Reese might be the only man who can help her. Now London has to make the hardest decision of her life—how far will she go to save her family?
REVIEW
Reapers Rule! I love these men with their uber alpha maleness masking the kind hearts they possess. Picnic, the MC President, is the most perfect of heroes. Readers learned much about him in the previous books but now, he gets the love he deserves after years of caring for his club and raising his daughters after his wife passed away. There were funny moments, sexy scenes, violence and suspense but underneath it all was a sweet love story unlike the other MC romances in the series. London is one lucky lady.
Favorite Part: The opening gave a glimpse of the future and then we flashed back to see how they got to that moment. Quite smart! It kept me flipping pages as fast as I could to get back to that scene and understand how it came to that moment.
RATING
5 Chocolate-Dipped Strawberries
This book was given to us by the author. Many thanks.